Feast of the Holy Cross of Varague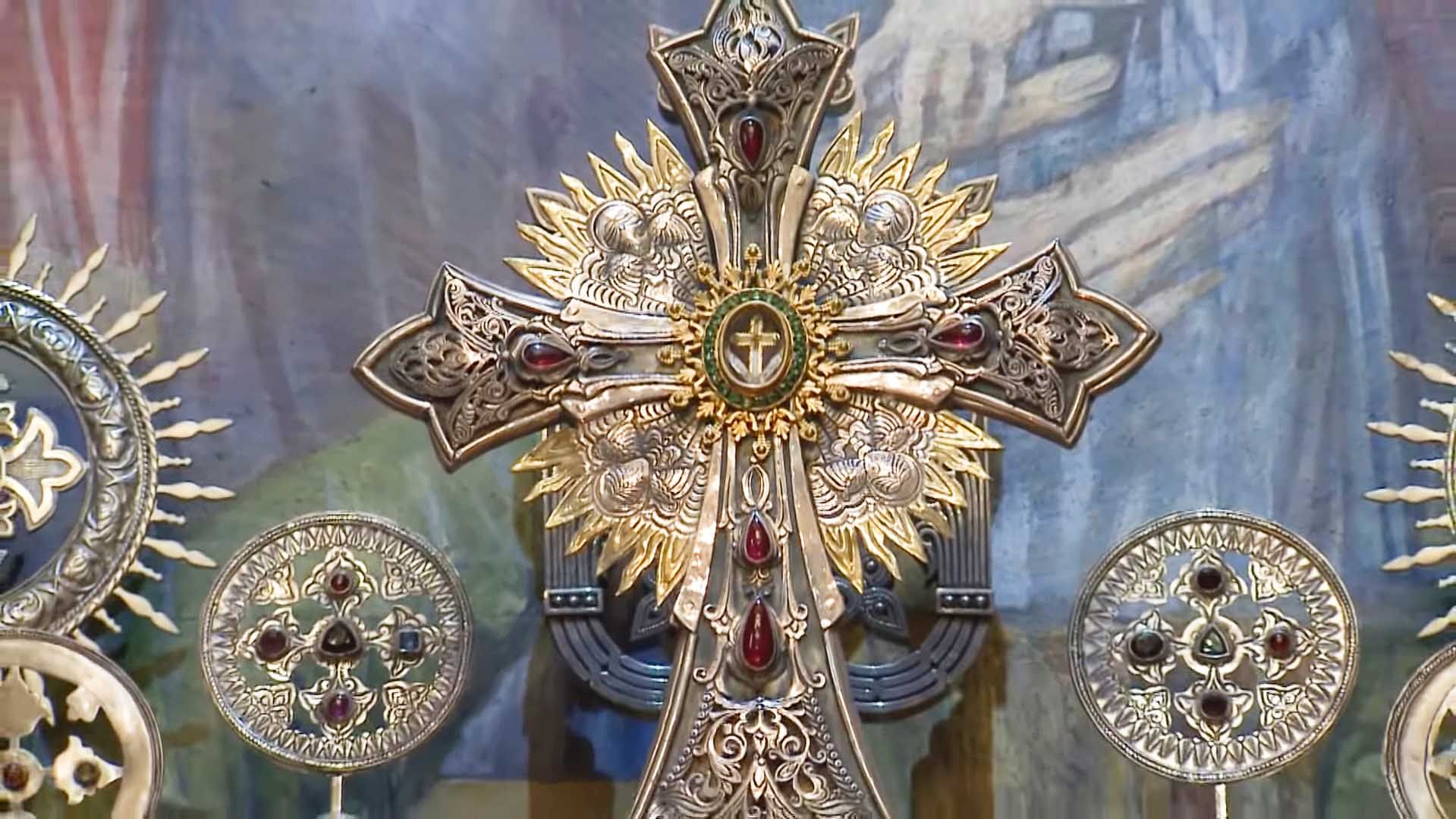 This year is celebrated in::

2023-10-01
All Christian Churches each year solemnly celebrate all feasts dedicated to the Holy Cross. The Armenian Apostolic Church, in difference to the other Christian Churches, celebrates another purely national feast dedicated to the Holy Cross, which is famous as the Holy Cross of Varague. The Armenian Church celebrates this feast two weeks after the Feast of Exaltation of the Holy Cross, that is - the Sunday during the period of September 25 - October 1.
According to the historian Agathangelos, St. Hripsime and her companions, running away from the Roman Emperor Dioklethianos, who started persecutions against Christians, reach to Armenia and find shelter in Vagaharshapat. However, before reaching Vagharshapat they stop at the Mountain Varague, which is to the southeast from the Lake Van. Taking off from her neck the relic of the Lord's Wooden Cross, St. Hripsime gives it to the praying monks living on the mountain and asks them to preserve it in one of the caves. Thus, the sacred relic remains hidden till the seventh century.
In 653 A. D. the monk Todik and his disciple Hovel pray at the Mountain Varague and ask God to show the place of the relic. Suddenly 12 bright columns appear around the mountain and the sign of the Cross is seen among the columns. For 12 days the bright columns remain visible even from distant sites. This joyful news spreads everywhere.
Nerses the Creator Catholicos who was the Catholicos of All Armenians of that period, and Captain Vard, son the Knight Theodoros, learning about that miracle, go the Mountain Varague to personally witness it. With the support of the Armenian people the Pontiff builds a magnificent church, which in honor of the miracle is named Holy Cross Church. The Pontiff Nerses also writes the marvelous church hymn "By means of the most powerful sign", which is sung in the churches on the day of the feast.
The sacred relic remains at the Mountain Varague till 1021 A. D. Later the Armenian King Senekerim Artsrouni brings the relic to Sebastia. After the latter's death the relic is again transferred to its old place and remains there until 1651 A. D. when the relic is taken to Khoshab. In 1655 A. D. the relic is placed in the Church of Holy Godmother, in Van, which is renamed to Church of Holy Sign. The relic was preserved there till 1915 A. D.
This feast has been and will be on the following dates
2020-09-27 Feast of the Holy Cross of Varague
2021-09-26 Feast of the Holy Cross of Varague
2022-09-25 Feast of the Holy Cross of Varague
2023-10-01 Feast of the Holy Cross of Varague
2024-09-29 Feast of the Holy Cross of Varague
2025-09-28 Feast of the Holy Cross of Varague
2026-09-27 Feast of the Holy Cross of Varague
2027-09-26 Feast of the Holy Cross of Varague
2028-10-01 Feast of the Holy Cross of Varague
2029-09-30 Feast of the Holy Cross of Varague
2030-09-29 Feast of the Holy Cross of Varague