Surb Astvatsatsin( Holy Mother of God) Church of Mets (Great) Samsar
{modal url="https://armenianchurch.ge/images/stories/ekegheciner/Akhalqalaq/mets_samsari-surb_astvatsatsin/3_axalqalaqi-didi_samsari-surb_astvatsatsin-1.jpg"}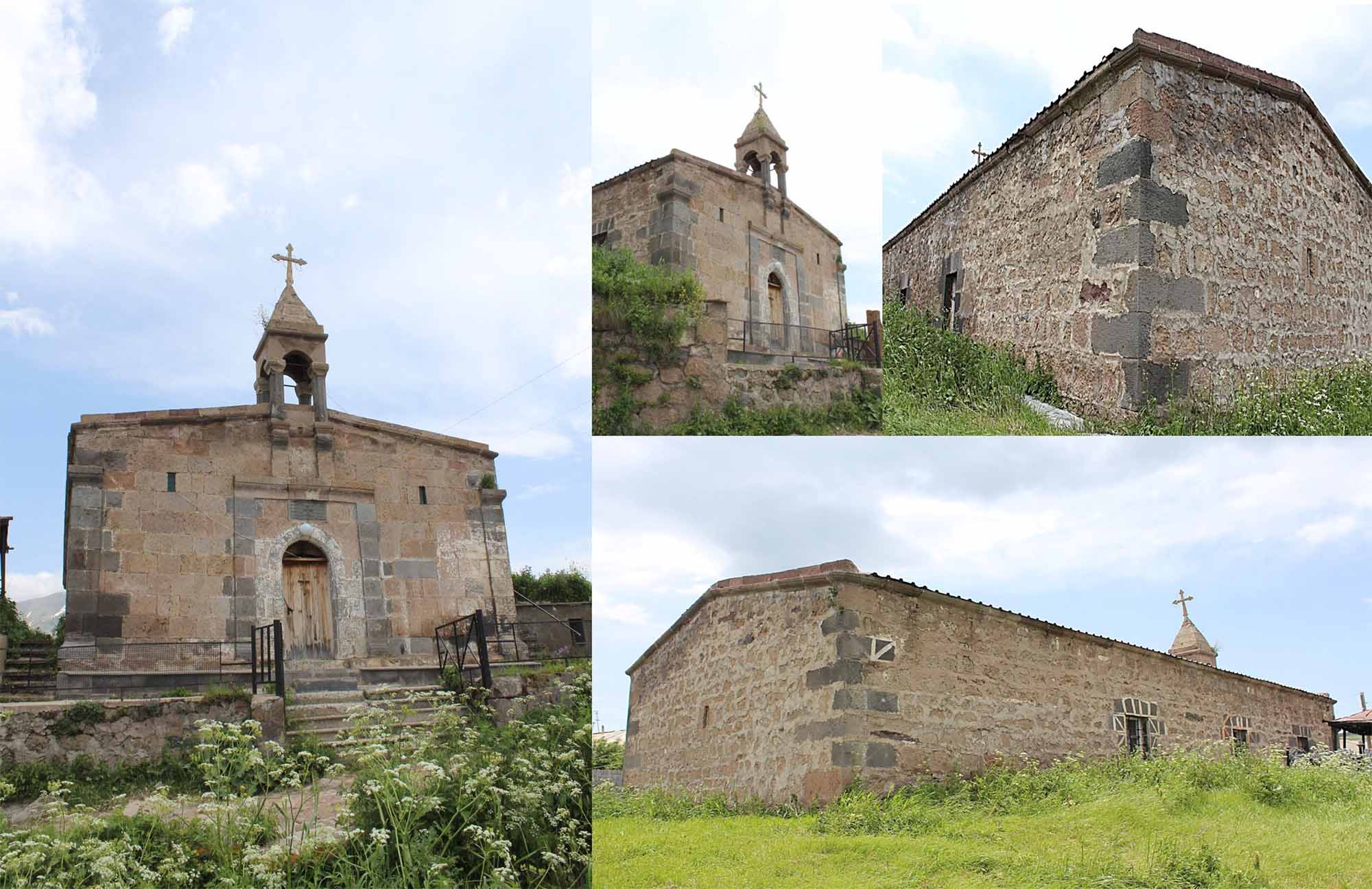 {/modalFounded in the first half of the 19th century
According to some historical facts, the village was founded on the site of destroyed town of Samsar. Some scholars identify Samsar with Samosate.[1]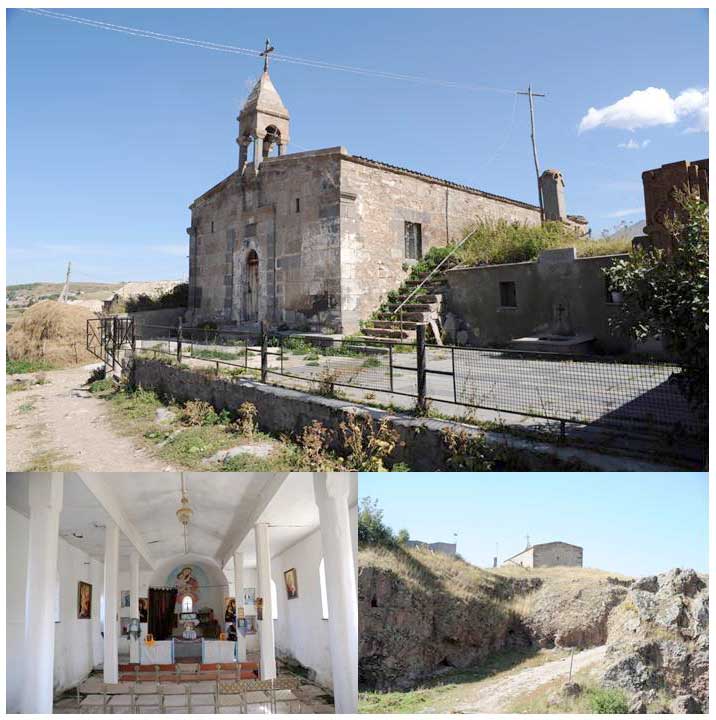 Church construction: The still standing church named after Surb Astvatsatsin in the village of Mets Samsar was founded in 1848 .[2] As of 1866, the church was wooden,[3] and a stony building with wooden cover in 1885.[4] The church was completely demolished by the earthquake on December 19, 1899 and reconstructed in 1902. The protocols on the church's lintel provide information on both the earthquake and reconstruction.[5]
Architecture: The outer dimensions of the church are 16.25x8.15m .[6] The entrance is from the western side. It is built of mixed types of tuff and belongs to the hall type. Lime was used as a binding material. The entrance is from the western side, and there are some Armenian inscriptions on the right and upper parts. The bell tower on four pillars is built on the western side of the roof. The gable roof is covered with tinplate. The interior walls are plastered and painted. The hall is divided into ships by columns. The Altar is on the eastern part with its chapels on the right and left sides. The baptismal font is located on the northern wall.[7]
Parish priests: One of the priests of Surb Astvatsatsin Church was Father Harutyun Karapetyan priesting in the 1860-1880s.[8]
School: Archival documents about the church school state from the 1870s. Khachatur Ter-Azaryants is mentioned as a teacher.[9]
Church re-consecration: In the post-Soviet period, Surb Astvatsatsin Church in the village of Mets Samsar also appeared in a hopeless state, the renovation of which was initiated by the former residents of Samsar. The church renovation works were completed in October 2004. In August 2005, the Primate of the Diocese of the Armenian Apostolic Church in Georgia, His Grace Bishop Vazgen Mirzakhanyan re-consecrated the church. The chapel was renovated by means of the village founder's , Father Barsegh's grandson Samvel Barseghyan, who now lives in Russia.[10]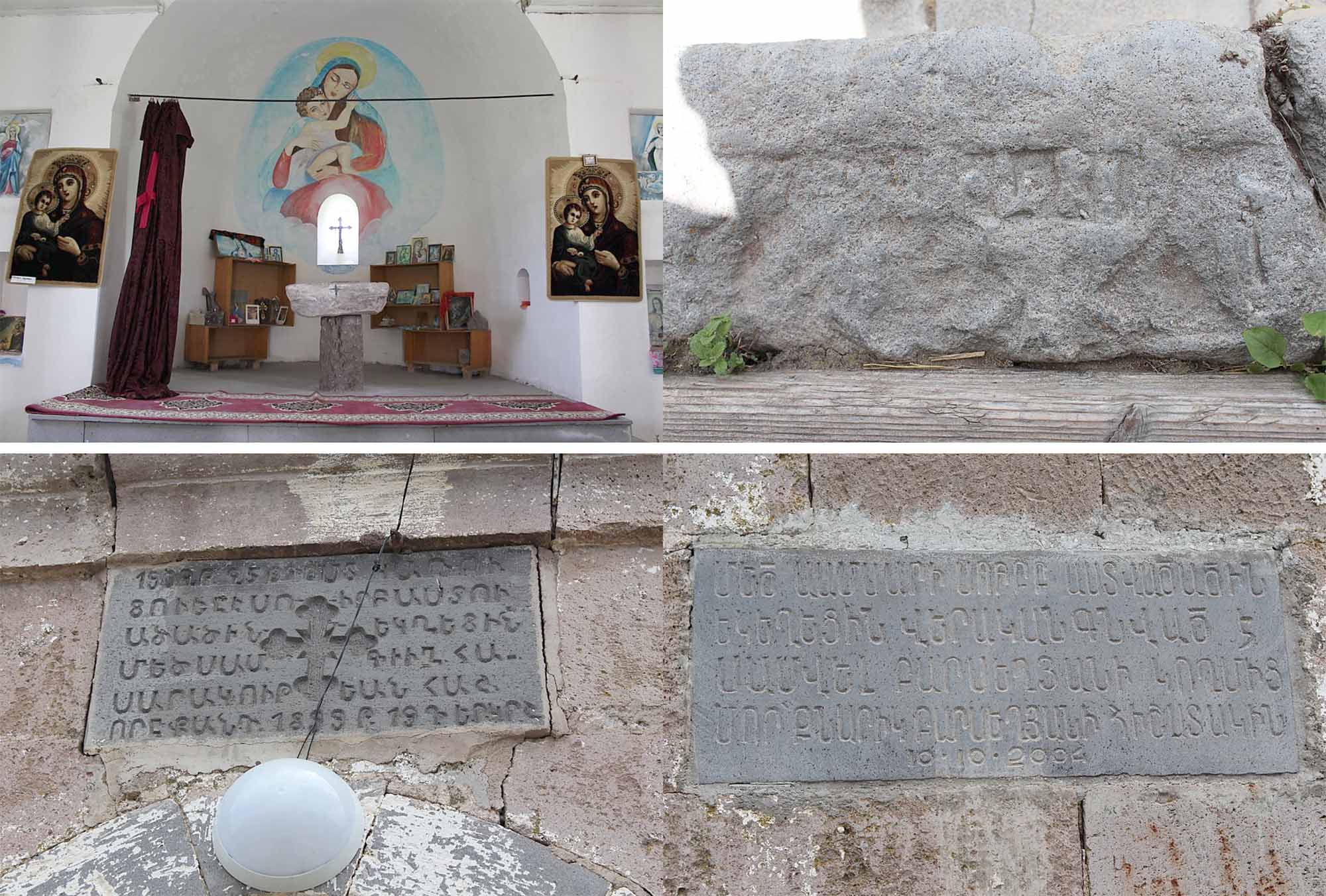 Holy places: To date, Khach Maghal cliff church of the 11th and 12th centuries, three cliff churches and a chapel of the 11th-13th centuries have been preserved in the territory of Mets Samsar. There are also khachkars belonging to the mentioned era. All this is carefully kept and maintained by the local Armenian population. There is also a holy place by the name of Karmravor on the edge of the village.[11]
Diocese of the Armenian Apostolic Church in Georgia
Armenian Historical and Cultural Heritage Research Center in Georgia
[1] "Echmiatsin", 2005, Է-Ը(E-H), p. 171
[2] S. Karapetyan, Javakhk, Yerevan,2006,p. 379
[3] NAA, ֆ. 53, ց. 1, գ. 3848, թ.74-ի շրջ
[4] "Ardzagank", 1885, N 3, p. 43
[5] S.Karapetyan, in the same place
[6] S.Karapetyan, in the same place
[7] Armenian Historical and Cultural Heritage Study Center in Georgia. Diocese of the Armenian Apostolic Church in Georgia
[8] NAA, ֆ. 53, ց. 2, գ. 2629, թ. 2; գ. 2633, թ. 2; գ. 2657, թ. 3, գ. 2662, թ. 3
[9] NAA, ֆ. 56, ց. 15, գ. 52, թ. 43
[10] "Echmiatsin", in the same place
[11] S. Karapetyan, in the same place