Surb Grigor Lusavorich (St. Gregory the Illuminator) Church of Oral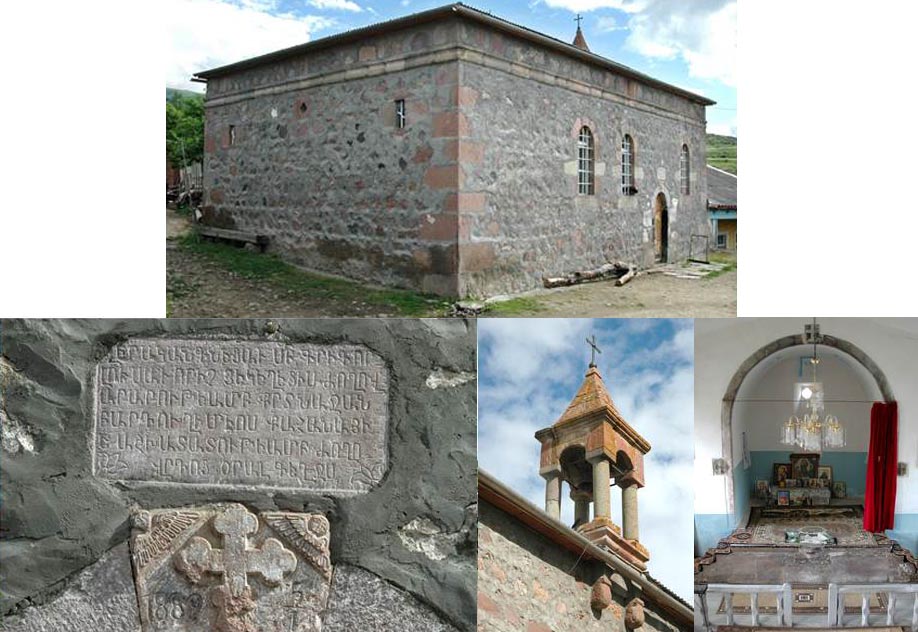 Mentioned in 1840
The first evidence of the church in the village of Oral of Akhaltsikhe region refers to 1840. In the proving archival documents, however, the name of the church is not mentioned.[1] The church was wooden in the 1840s-1860s[2] In 1885 it is mentioned as stony.[3]
Church renovations: In the 80's of the 19th century, the church was outdated and was in need of renovation.[4] According to the inscription on the western wall of the church, the construction works were completed in 1889. The renovation was done at the expenses of the village residents on the initiative of priest Bartholomew.[5]
Architecture: The church is a stony building with a rectangular plan and wooden roof. The belfry is in the central part of the western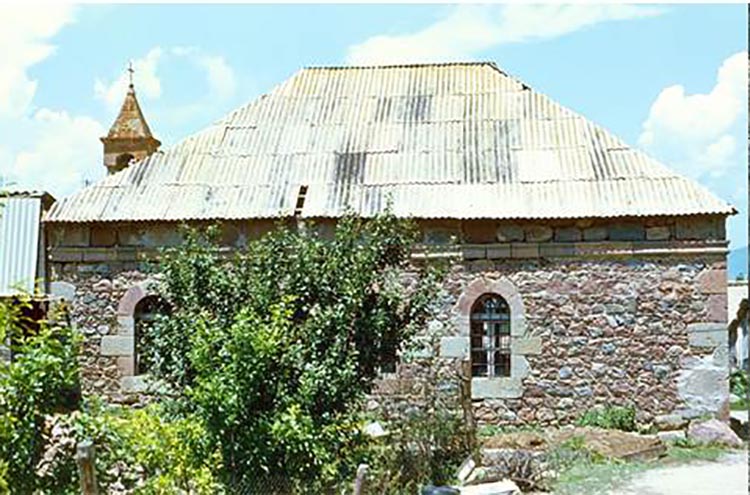 façade, based on four columns. It is built of mixed building materials. Tuff and slab were used in the construction. As a connecting material, lime is used , which is definitely visible on the frontal parts. The hipped roof is covered with sheet-lead. The semi-circular entrance is open on the northern wall. There is an inscription above the entrance. The altar is in the eastern part. The chapels are on the right and the left sides of the altar. The font is placed in the niche of the northern wall.[6] The total dimensions are 11.98x8.06 m.[7]
Parish priests: Bartholomew Ter-Hovhannisyan Ter-Nahadytsiants was one of the priests of the 19th century of Surb Grigor Lusavorich Church in the village of Oral ,who at the same time pastored in the villages of Sazel and Ghulalis.[8] In the 1990's, Garegin vardapet Balasanyan priested in the village.[9]
Church items: At the end of the 19th century, oil painting canvas with brief notes were donated to the church, which are still preserved.[10]
School: The first parish school was opened in 1903. The first teacher was Bartholomew from Sazel.[11]
Church Reopening: The church, along with other churches in the diocese, was closed in 1936 and turned into a warehouse. It was reopened in the 1990s by efforts of the villagers. Father Garegin was invited to serve as a priest, who would also simultaneously pastor in Great and Small Pamach, as well as in Sazel.[12]
Consecration of St. Gevorg chapel: In April 1996, led by the Primate of the Armenian Apostolic Church in Georgia , His Grace Archbishop Gevorg Seraydaryan, divine and funeral services were held in Srub Grigor Lusavorich Church of Oral, after which in the environs of the village the consecration ceremony of St. Gevorg Chapel was held, which was rebuilt by the village resident Khachatur Sahakyan and his family.[13]
Diocese of the Armenian Apostolic Church in Georgia
Armenian Historical and Cultural Heritage Research Center in Georgia
---