Pokr Aragyal – Surb Stepanos (Saint Stephen) church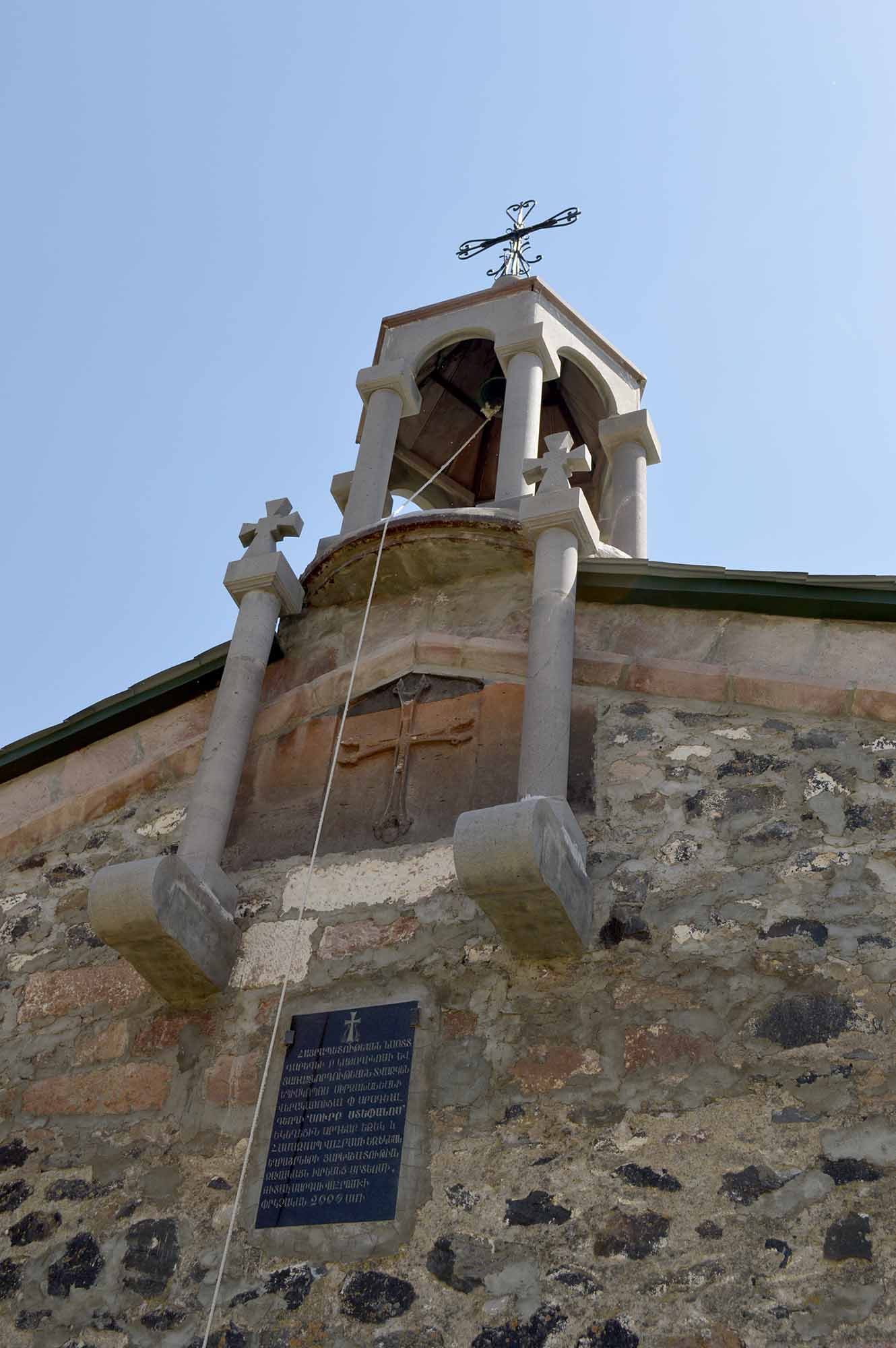 The church was founded in 1862.
Establishment of the church: The village of Pokr Aragyal is located 8 km north-east of Ninotsminda. According to the inscription preserved on the western front of Surb Stepanos (Saint Stephen) church [1], it was built in 1862. In the bulletin of the Georgian and Imeretian Dioceses of the Armenian Apostolic Holy Church of 1866, the church is mentioned as a wooden structure with 20 parishes [2]. In 1885, the church was built of stone, covered with wood and had 26 parishes [3]. As of the beginning of the 20th century, the annual income of the church was 20 rubles and 30 kopeks in silver [4].
One of the two cemeteries of the village is located on the southern side of Surb Stepanos church.
Architecture: The church is built of stone and covered with wood. The external dimensions of the church are 13,27 × 9,12 m. It had a wooden belfry with forty columns on the top of the western front [5].
Parish priests: In accordance with the church registers of Surb Stepanos church in Pokr Aragyal, Rev. Father Grigor Ter-Gevorgyan, Rev. Father Stepanos Ter-Ghazaryan [6], Rev. Father Ghazaros Ter-Khachatryants [7] are mentioned as priests in 1860- 1880s.
School: The church parish school of the village has been mentioned since the 1870s. Particularly, it is mentioned in the diocesan schools' bulletin of 1875, that the village had one preschool with 15 students. Gevorg Vardanyants is mentioned as a teacher [8].
Reconstruction and reconsecration of the church: After the Post-Soveit period, Surb Stepanos church also needed renovation. The initiative to renovate the church was taken by benefactor Yezek Yezekyan, who was born in Pokr Aragyal. In 2009 the church was renovated and the surrounding area was improved with the means provided by him. The church was reconsecrated in 2009.
Diocese of the Armenian Apostolic Church in Georgia
Armenian Historical and Cultural Heritage Research Center in Georgia
[1] S. Karapetyan, Javakhk, Yerevan, 2006, p. 525.
[2] NAA, ֆ. 53, ց. 1, գ. 3848, թ. 74.
[3] ''Ardzaganq'', 1885, N 3, p. 41.
[4] NAA, ֆ. 53, ց. 1, գ. 3912, part 1, թ. 112-ի շրջ.-113.
[5] S. Karapetyan, in the same place
[6] NAA, ֆ. 53, ց. 2, գ. 792, թ. 2.
[7] NAA, ֆ. 53, ց. 2, գ. 794, թ. 2; գ. 809, թ. 2.
[8] NAA, ֆ. 56, ց. 15, գ. 52, թ. 43-ի շրջ.-44.